Cover: A drone shot over the city of Nansana, on the outskirts of Kampala. At the bottom centre is TERAKOYA, a project for a local primary school (designed by ikko Kobayashi+Fumi Kashimura/TERRAIN architects)
photo:Timothy Latim
I used to think that architecture and cities were made up of a variety of plans. But in 2020, in a year when the word "plan" has been shaken and troubled all over the world, I remember my first job in Uganda and being stunned by the fact that everything was not going according to my plan.
The first thing that bothered me was the matter of the site. Although land is bought and sold on the basis of a land title, the boundaries are often vague. To my dismay, I was told the boundary is "from that tree to that tree" in a field of banana trees. As houses and roads are built at a faster rate than the plans drawn up by the authorities, we frequently see large roads running through seemingly plausible site plans. As a result, neighbours and government officials will demand their rights of way from the start of construction on the building site. The situation, which one has to push, haggle with each other's claims and make adjustments, is very annoying from the point of view of the planner and the architect (i.e. me myself), while, in fact, experiences have told me that inevitable changes, adjustments and improvision of ideas could turn out to be a good thing in the end. Rather than promoting standards and plans made by a faceless person, if you have a dialogue with the neighbour who complains to you like a demon (a tedious and time-consuming process), and that you can eventually make her smile, or at least make her feel a greater affinity for the architecture, you have accomplished an important milestone for the future of the building.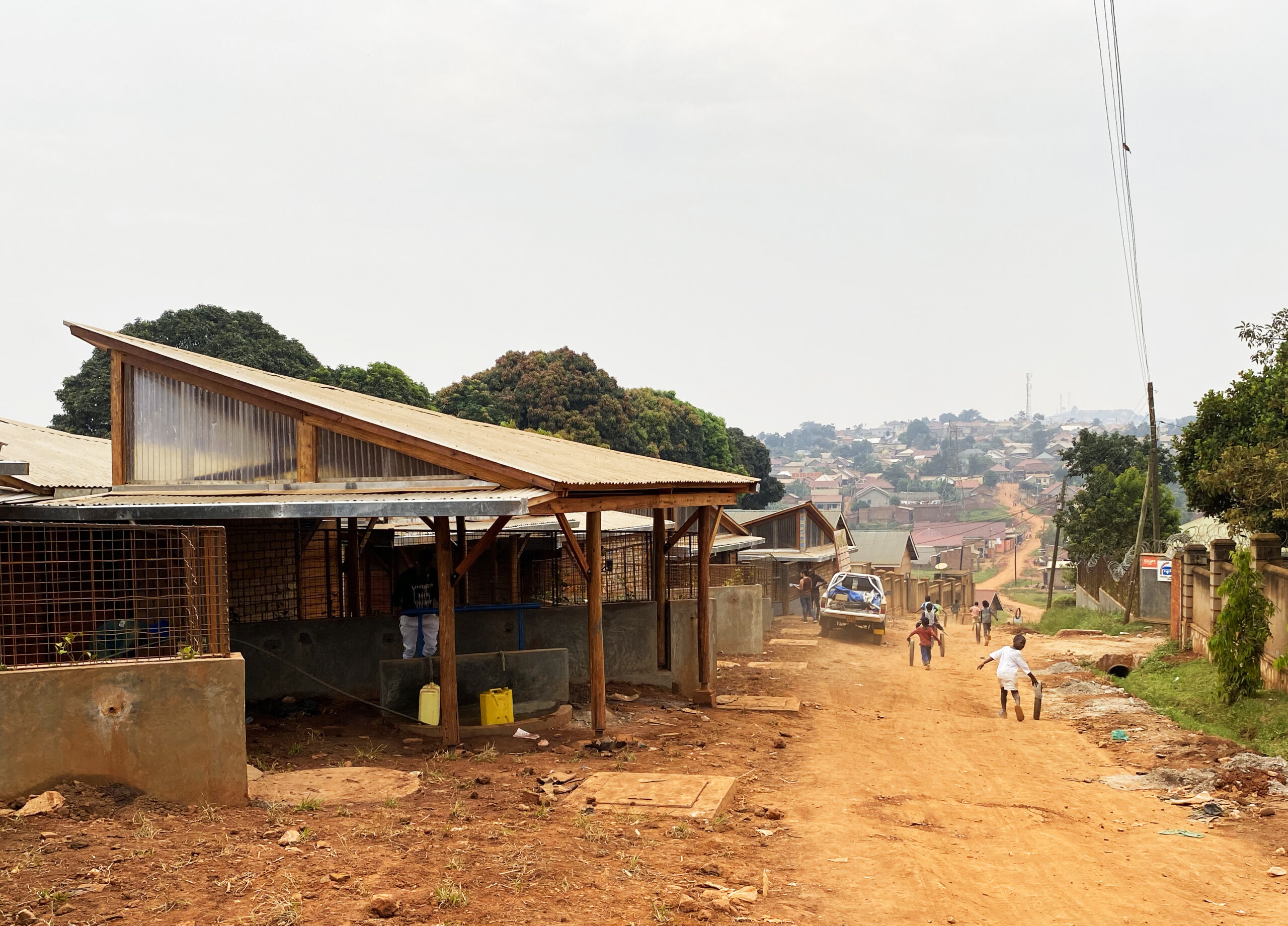 The road in front of TERAKOYA. The plan to pave the road has been in the works for 15 years, and then disappeared. Children can be seen playing with the tyres.
As I went through this kind of experience, I began to realise that the reason I have trouble about things not going according to my plan was because I had mistakenly assumed that it was normal for my plans to come to fruition. I look around me and see Ugandans laughing at their own unscheduled events as if they are watching a comedy show. The world is full of things that we have no control over and nothing remains unchanged. I think this is one of the wisdom nurtured in Uganda to incorporate "things that don't go according to plan" into our plans.
African countries are often described as "developing" and "backward" countries, lagging behind the West and Japan. However, there are many things that have become widespread and at least as advanced as Japan, such as online money transfer systems using mobile phones and communication on social networking sites. With the spirit of trial and error without fear of failure, technological development in a variety of fields is also remarkable and is steadily advancing.
It is in cities like Tokyo that we can find something we may have lost, and a future we may never have seen. Rather than getting stuck in a nostalgic mood amidst a variety of moving situations, the question is: what makes new architecture and cities rich and enjoyable? What is a city? I really hope to learn from this place.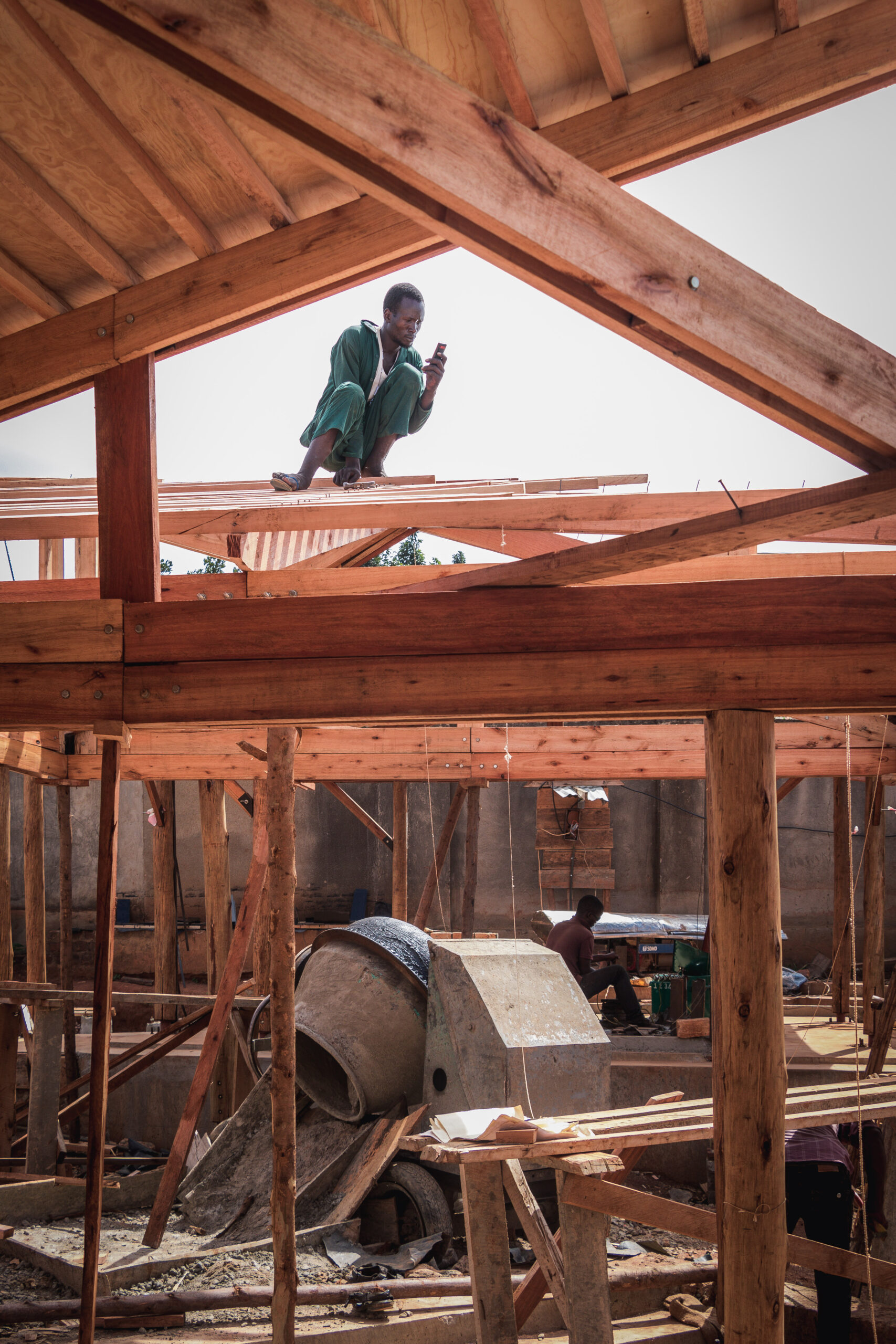 A carpenter checks his mobile phone while working on TERAKOYA.
Credit :
Photo : Ikko Kobayashi, Timothy Latim
Source : "Kenchikushi" Dec 2020