Mpindi's Pottery (Uganda – Japan)
Since my return from Japan in April 2015, I continued to research and practice through experimenting with different pottery clay bodies testing their capabilities to stand long-range firings and various atmospheres. I have been able to modify two kilns at Makerere University School of industrial and Fine Art to fire successfully using firewood as the main source of fuel and be able to attain high temperatures of about 1100 degrees centigrade which wasn't very possible before given the low quality of the clay bodies (having a lot of iron in them) which have been used and tend to fail to stand temperatures beyond 1000 degrees.
Japan was a great place that inspired me a lot especially when I interfaced with various pottery traditional styles and personalities (national treasures) who were able to explain a lot of history about their craft which allowed me to know more about particular pottery production practices and procedures from making through firing and finally selling.
Bizenyaki traditional become more interesting for me because of its firing effects and procedure and perhaps how it had close resemblances with Ugandan red clay products after firing although the temperatures of the Ugandan products were way lower than Bizen ware. Pottery in this region was fired bare meaning without glaze and the decoration was left to the fire as it went through the kiln during the firing session. The location of the work in the kiln was also strategic to either have more ash accumulation or less and also the wrapping of the wares with rice straw created great surfaces onto the work at the end of the firing.
This aspect has been a great influence in my pottery product through decorative and usable items that I have produced. Also, the simplicity in Japanese pottery forms become part of my working style, and also borrowed some objects that perhaps don't exist in the Ugandan cultural pottery spectrum I try to have them in my production line to serve different purposes among Ugandan homes.
Well I have made some project work for Yamasen Dining a Japanese Restaurant in Muyenga which included washbasins, coffee mugs, sake cup (guinomi), Sake serving pitcher(katakuchi), chopstick rest(hashioki)

Coffee mugs and tea bowls
Washbasins have been around for a long and when I was starting to study ceramics as an undergraduate. I used to wonder how and why perhaps they are always white and whether it could easily be done with our local clay and by hand or it was only a factory production process. Little did I know that it was based on clay to define the color and perhaps the glaze as a surface finish. So while in Japan I found different local artisans making these items and I used to long to also produce them with Ugandan clay. This has been possible through research into clay bodies to find suitable ones that have seen the production of some washbasins and Yamasen Japanese Dining commissioned some like the one below.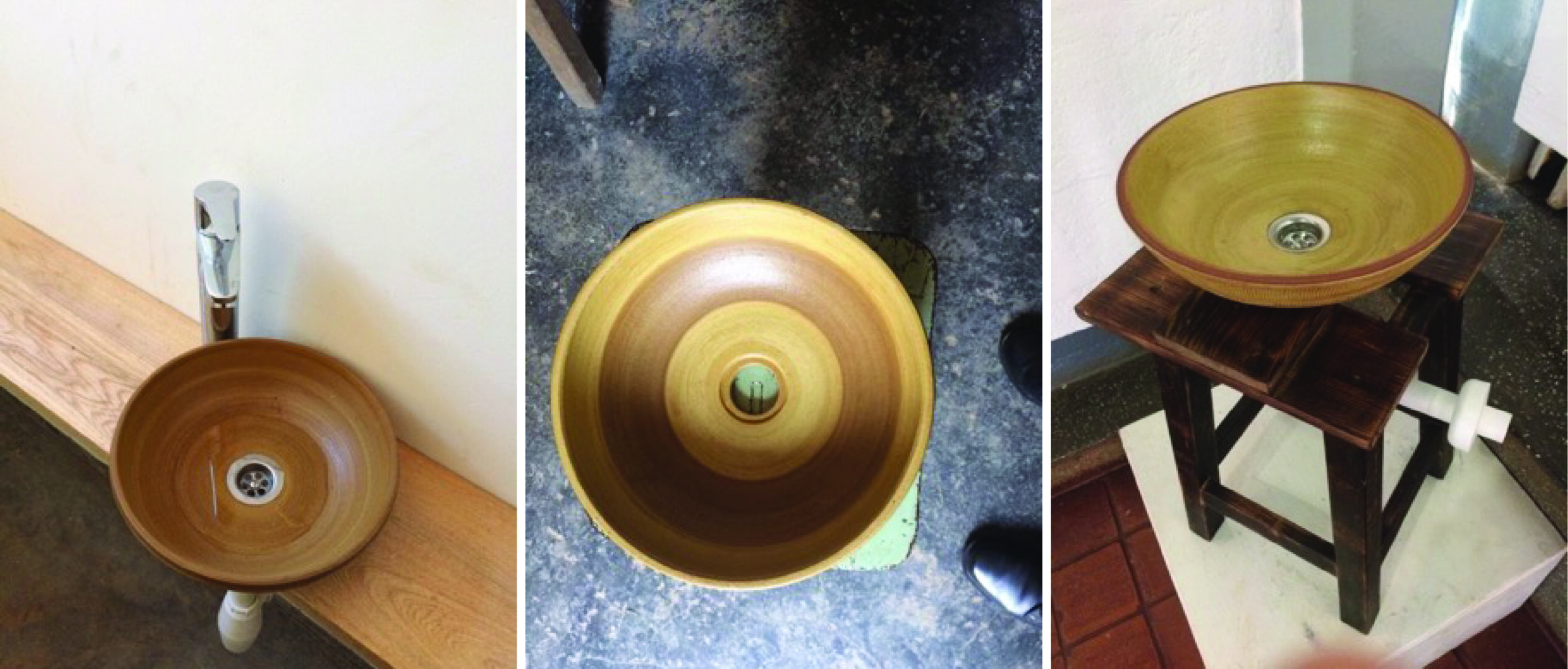 Washbasins.
Below is a project I work on which was sparked by the popular phrase that came out of tragedy when MV. Templar capsize in Lake Victoria. The phrase "Balance the Boat" has become very famous especially as a metaphor used to call for balance amidst unbalanced status cores in Political, Social, and Economical spheres of life in Uganda to date. So a mold in a shape of a boat was made and a couple of boats were made through the pressing technique to create imagery symbols (objects) that were used to address some of the aspects associated with the metaphor: – balancing of the boat.
Each boat that made it to this show had a specific aspect in society that it echoed out and hanging in an installation was to give a more focused understanding of finding balance when perhaps it's not possible hence hanging mid-air.

Some of the boats under the continuing theme of balancing the boat.
With the pandemic hitting the world, Uganda like any other country went into lockdown and this was a great time for the production of some work from home. I didn't have a studio there but had to be creative and try to make some work from the small space at home. During that time among other things, I made handle-less cups, saucers, plates, bowls, and small pickle bowls among other things. Most of these were handmade items from slabs. When these items were dry enough I moved them to school, where I bisque-fired them. After the first firing, I glazed the items using both a modified transparent glaze and opaque white glaze.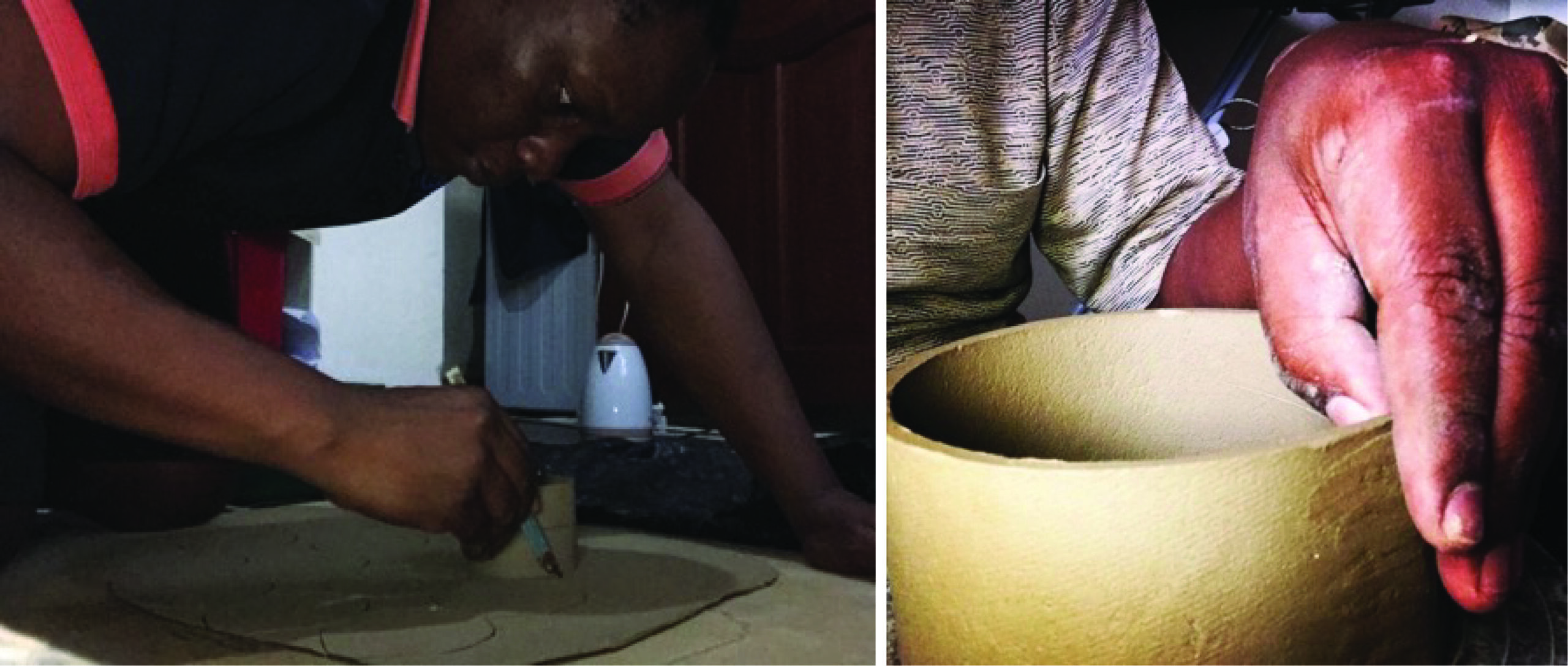 Trimming circular shapes and joining one of the pieces respectively.

Items made and how they were parked and moved for firing.
Also, I made some washbasins using the wheel during the lockdown but I realized that the mess made by my wheel work was impossible to control hence sticking back to smaller items.

Messy work station at home and thrown and trimmed washbasins.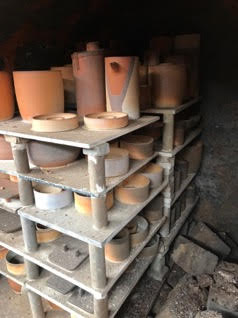 Works loaded in the kiln and also after the first firing.

Glazing process of some of the work.
Glazing of the wares was a test to see whether the wood kiln that I use could be used to fire ceramic pieces with locally made glazes in Uganda and the glazes mature with a shorter firing round. This firing was also different compared to my earlier firings where I seek to get effects of ashes onto the ceramic work hence the longer days of firing. Further, this experimental firing with locally made glazes sort to help students find an alternative firing procedure for their project work without waiting to do a firing in the electric kiln unless otherwise and use wood and atmospheric effects in the wood-kiln to add more beauty to their work.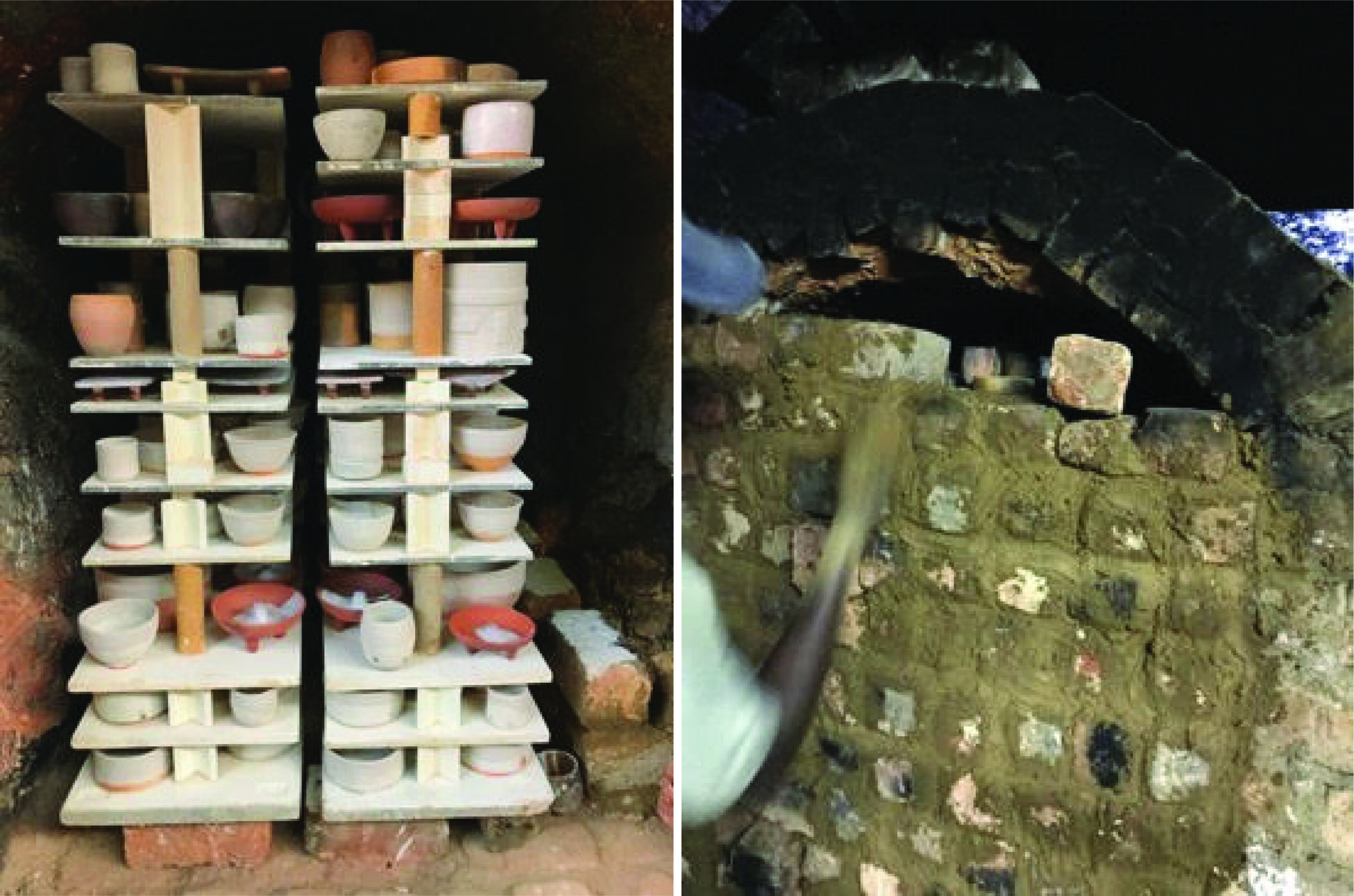 Glazed pieces and bricking up of the door to start firing.

Firing in progress start, midway, and a digital scale to keep track.

Works after the firing with lower areas with much ash.

Works after the firing, offloading, and cleaning of the works.
Some of my work borrows a lot from the different Japanese pottery styles/cultures in terms of objects and form including atmospheric firing techniques and also from contemporary traditional Ugandan pottery seen. All in all the time that I spent in Japan during my studies widened my knowledge base which has been very helpful in sharing my experience and inspiring students at the university where I teach and other people that I come into contact with and have 1 or 2 things they want to know about pottery.
Credit :
Essay/Photo : Ronald Mpindi Kibudde